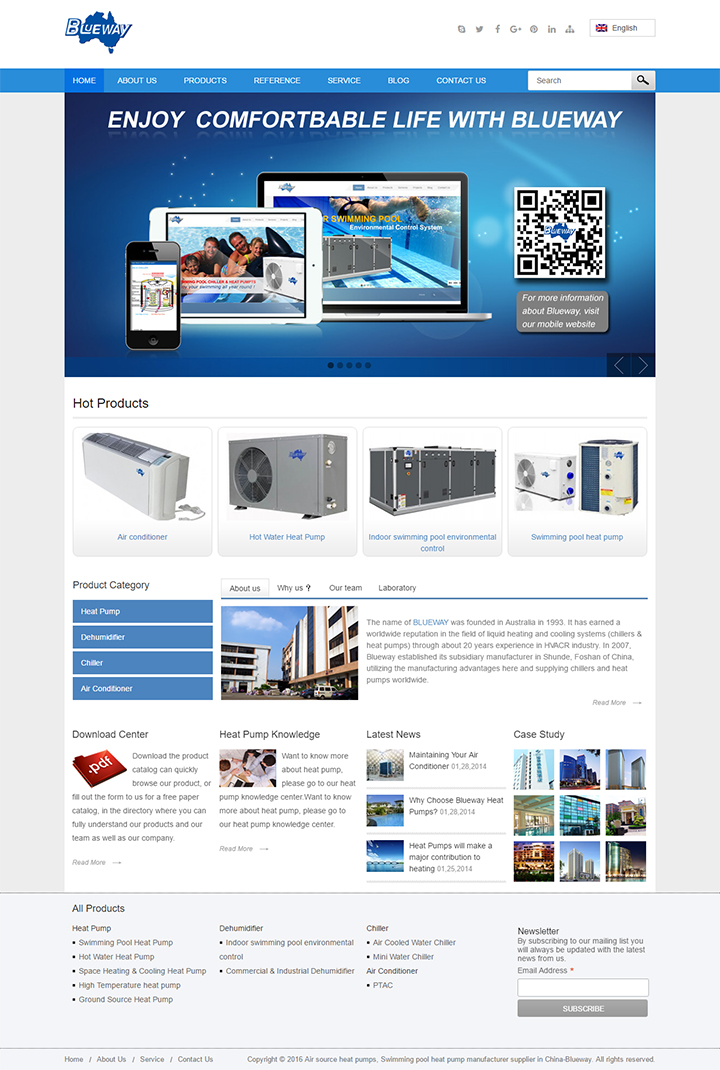 BLUEWAY Company Introduction
The name of BLUEWAY was founded in Australia in 1993. It has earned a worldwide reputation in the field of liquid heating and cooling systems (chillers & heat pumps) through about 20 years experience in HVACR industry. In 2007, Blueway established its subsidiary manufacturer in Shunde, Foshan of China, utilizing the manufacturing advantages here and supplying chillers and heat pumps worldwide.
Now Blueway is capable of manufacturing and supplying heating, cooling & air handling requirement for applications as diverse as:
Domestic and commercial hot and/or chilled water for homes and buildings
Industrial water heating and/or cooling
Commercial and industrial dehumidification and air handling systems
Air condioners: PTACs, Marrine Acs, Roof Top ACs etc.
Other specialist requirements
Blueway produces Air/Water Heat Pumps including Swimming Pool Chiller & Heat Pumps, Indoor Swimming Pool Environment Control Systems (Dehumidifying, Cooling, Heating & Air Purifying), Multi Function Heat Pumps (House Heating, Cooling & Domestic Hot water), DC Inverter Heat Pumps, EVI Heat Pumps for low ambient temperatures, Hot Water Heat Pumps, Ground Source Heat pumps, Water Cooled Packaged Air Conditioners, etc. All its products are produced and tested in accordance with strict international quality control systems and standards, thus are able to adapt to different climate conditions worldwide.
所属类别: 工业设备