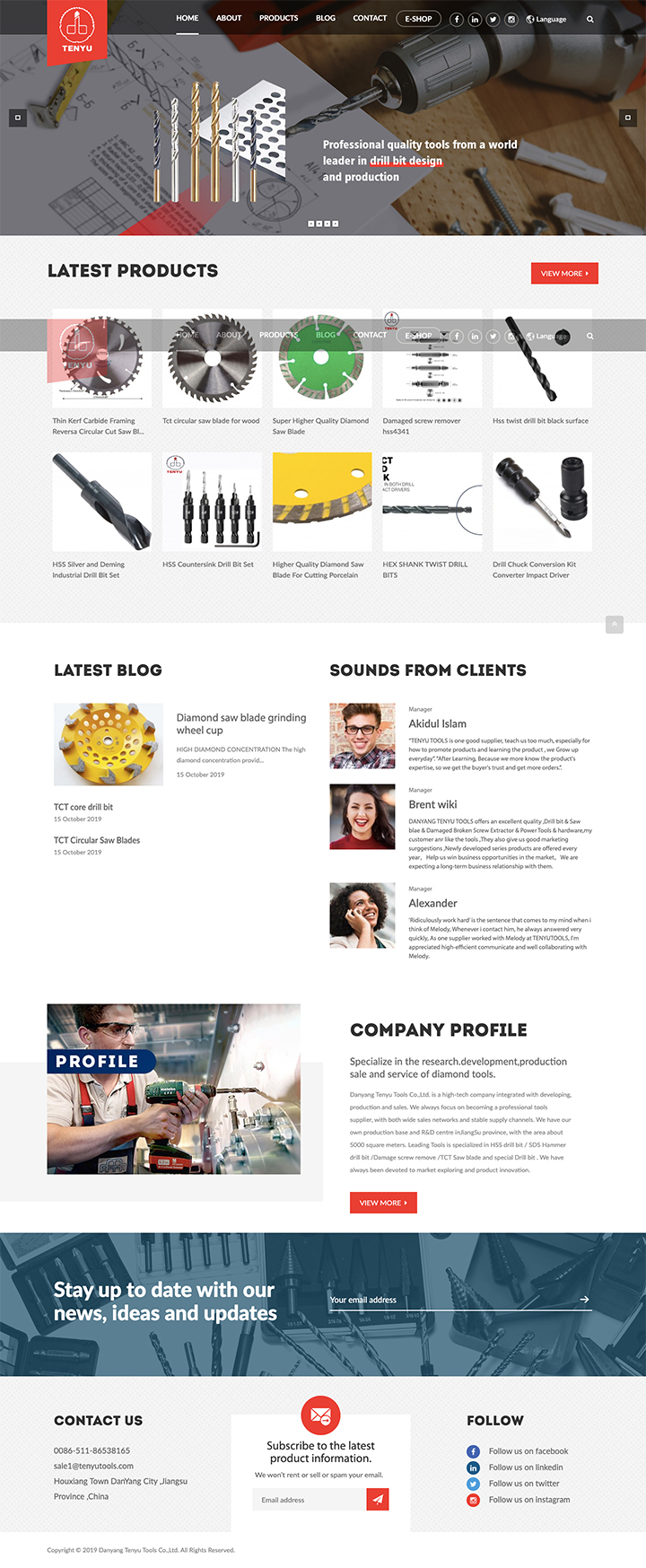 Specialize in the research.development,production sale and service of diamond tools.
Danyang Tenyu Tools Co.,Ltd. is a high-tech company integrated with developing, production and sales. We always focus on becoming a professional tools supplier, with both wide sales networks and stable supply channels. We have our own production base and R&D centre inJiangSu province, with the area about 5000 square meters. Leading Tools is specialized in HSS drill bit / SDS Hammer drill bit /Damage screw remove /TCT Saw blade and special Drill bit . We have always been devoted to market exploring and product innovation.
TENYU Tools is an innovative company engaged in everything from research and design to branding and marketing.
Our company was established in 2000 and has steadily grown each year. Since 2015 the company has been growing by more than 30 percent annually. As TENYU TOOLS sales continue to grow, so will its production facilities, with plans to double in the next year. TENYU TOOLS is working to become a leading Brand in professional Hardware & Power tools .
Monitoring the market and the changing consumer needs. TENYU TOOLS specializes in products for Drill bits , Saw blade , Damaged Broken Screw Extractor .
With its own patented technology, TENYU TOOLS is registered and sold in more than 20 countries around the world, with an ever increasing global presence. The TENYU TOOLS brand is already accepted internationally by major hardware chain Industrial market,stores, hardware stores, and supermarkets. Factory and Working out of the head office in Danyang city, the research and design team with about 16 staff, as well as the team of engineers, are engaged in everything from pre design market research, initial 3d design, prototype making, and finally product testing.
With persistent investment in innovation, TENYU TOOLS continues to launch new products every year to offer not only the readily available tools, but also innovative new designs that will shape the tool market. TENYU TOOLS factory is located next to the Shanghai port, one of the biggest and busiest cargo ports in the world. This Location gives a powerful advantage with overseas logistics and shipping cost control.
所属类别: 工业设备