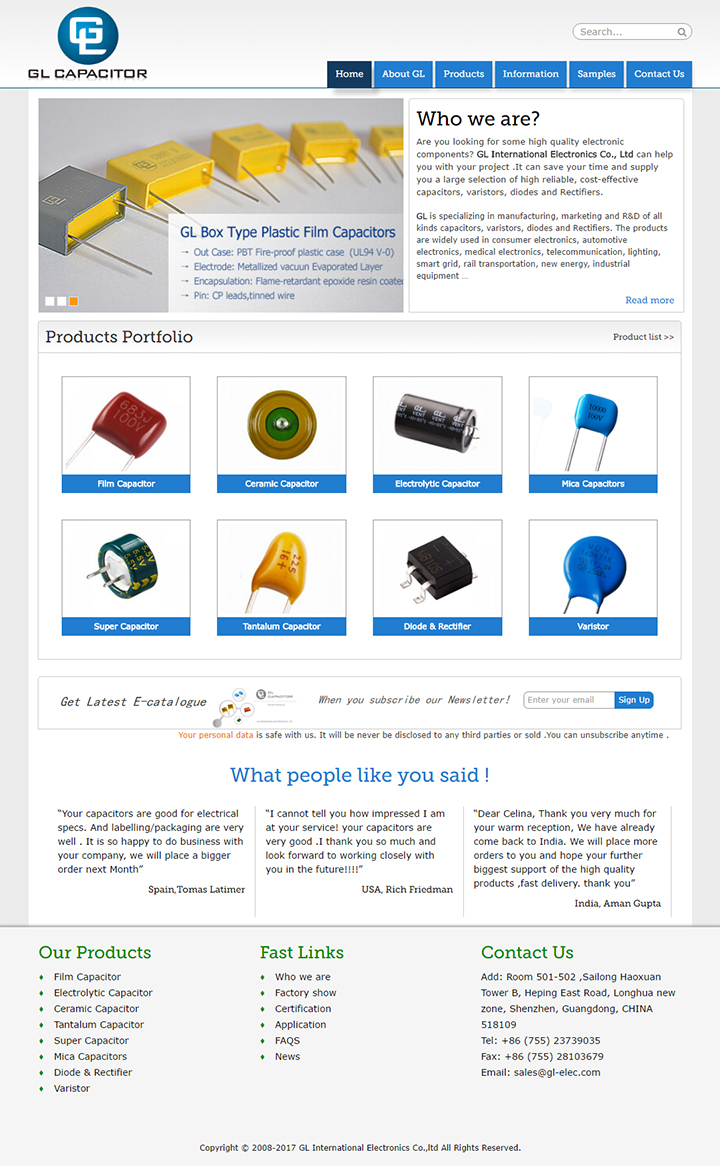 Are you looking for some high quality electronic components? GL International Electronics Co., Ltd can help you with your project .It can save your time and supply you a large selection of high reliable, cost-effective capacitors, varistors, diodes and rectifiers.
GL Electronics Co., Ltd. (GL) is specializing in manufacturing, marketing and R&D of all kinds capacitors, varistors, diodes and Rectifiers. The products are widely used in consumer electronics, automotive electronics, medical electronics, telecommunication, lighting, smart grid, rail transportation, new energy, industrial equipment and military industry.
GL began to supplying film capacitors to electronic industry with GLCAP brand since 2000, To meet the increasing capacitors market demand, It cooperates with many experienced factories and researching situations. And now its products range has expanded to electrolytic capacitors, ceramic capacitors, tantalum capacitors, super capacitors, mica capacitors, varistors, diodes and rectifiers.
In 2012, GL International Electronics Co., Ltd was established in Shenzhen to process the international business. It has convenient location, rapid multi-modal transportation links and various communication options that ensure the service and transportation efficiently to clients.
GL products perform quality inspection strictly based on Quality Management System of ISO 9001-2008 and Environmental Authentication System of ISO14001:2004. All products are in compliance with the Rosh directive. The suppression film capacitors X1 X2 Capacitors has passed VDE, UL, ENEC, CQC certifications.
GL International Electronics Co., Ltd keeps innovating and upgrading our technology to catch up with the e-commerce era impact and satisfy client's requirement. We are expecting to cooperate with you and to be your preferred reliable electronic components' supplier.
所属类别: 科技行业