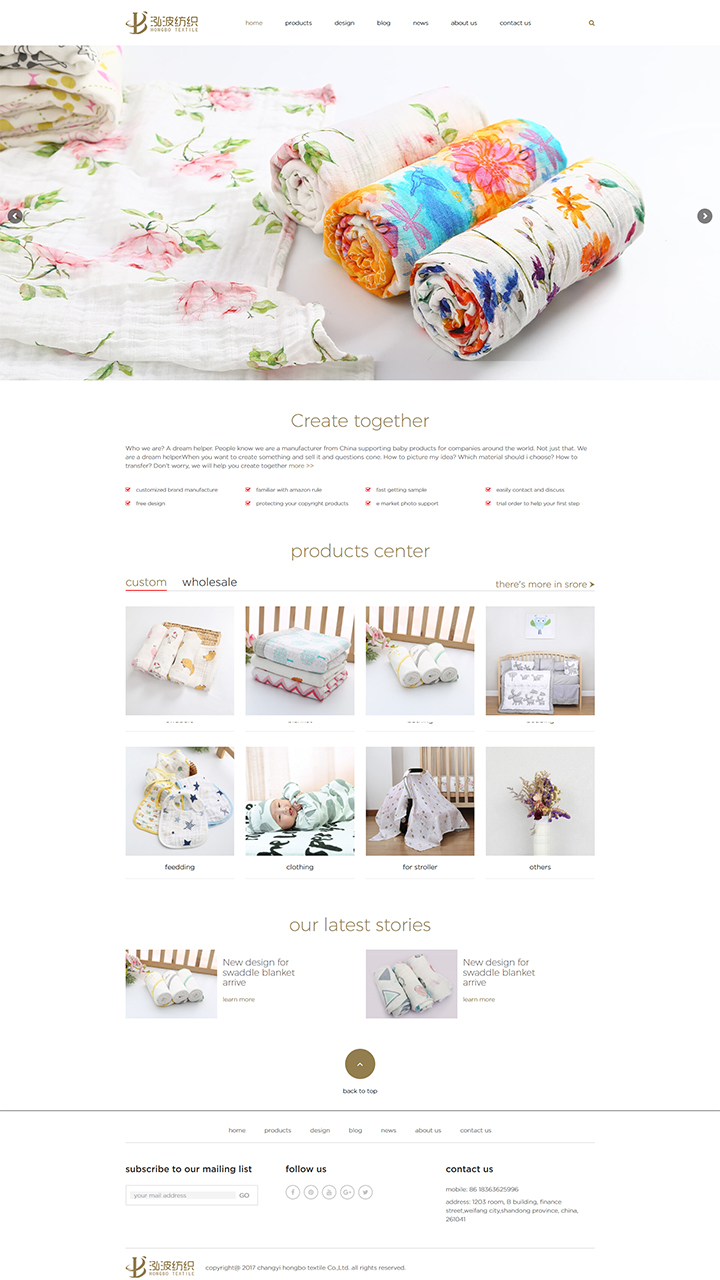 Our Story
When the new ray of sunshine warm earth, Hongbo textile factory has rumbled sounded the sound of the machine running. This is a small factory, at least in the present seems to be small, the factory workers care about a strands of yarn from the top of the weaving machine to the bottom of the weaving, women workers a skilled to turn the sewing machine. The factory gate stopped a car and waiting for a truck. The old factory director and one to the goods of the people talking. This is a scene in the spring of 1997, when China's rapid economic development, people set up factories and set up factories, doing business under the sea, we also set up at that time. The company is not the first time to do infant products, because at that time life is not so fine as now. The company also has only one product, towel. Although there is only one product, but every day the door of the factory people coming and going, towels in short supply.
With the rapid development of China's economy, people's living standards continue to improve, the requirements of daily necessities are getting higher and higher, people no longer simply satisfied with the towel used to wash your face, take a bath. More and more tricks on the market, the factory began to develop all kinds of towel cleaning toiletries, from the bathroom with adults, baby towels, bathrobes, travel to the portable towels, gift towels, kitchen clean towels, living room carpet, Mop and so on. Success is always not live up to the people who work hard, slowly the factory also into the market, to carry out the meeting, visit customers, the sales of various categories are also good, although not before, do not need sales staff towels sold out unprecedented The
In 2005, the company's Japanese customers want to do gauze products, then know little about gauze, but in order to meet customers, we still have to go to explore, in the six months of research and development production, we completed our The first gauze order, that is, then, a new sewing method triangular needle, came out from Hongbo textile. As of June 2006, we have helped our customers to complete Category 5 gauze products. Even if the first time and gauze meet is beautiful, but our main business or towel products, although the towel competition is becoming increasingly fierce at this time.
In 2008, the world broke out in the financial crisis, China's export business into the downturn, many factories have closed down. We also encountered no small blow, the order less a big cut, and to the orders are a lot of effort to talk down, the price is still low, for a long time, the factory workers are off classes The Business is bleak. One day fan of a friend came back from abroad, with a gauze blanket gave the domestic nephew, Fan a look, this and before the Japanese customers to do the product is not very similar to it? Is this product very popular? Fan and friends talked and found that foreign babies are born like this with a towel. Fan was in thought. The next day fan and his husband to discuss the product of the towel now the situation is low quality low price, this is not what she wants, so she bought from a foreign website, Amazon, shopping malls a lot of baby blanket, Blanket business trip.
Now our company in addition to gauze blankets, but also the development of a variety of baby products, including baby hood bath towels, baby bedspreads, bed, bed skirts, pillowcases, quilts, napkins, all kinds of bibs, sleeping bags, In response to the diverse needs of our customers, we have also trained a group of graphic design staff to help our customers achieve their own ideas. We continue to innovate, only to better serve customers, develop the market.
所属类别: 服务行业