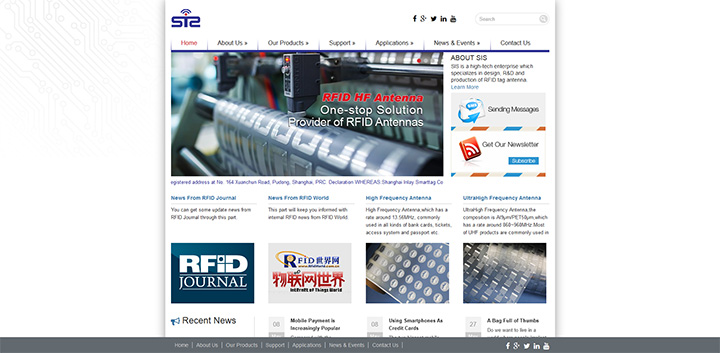 SIS is a nationally recognized high-tech enterprise with a specialization in the design and production of RFID tag antennas. SIS engineers have been focusing on the niche field of RFID antenna design since 2001. We manufacture HF RFID antennas, UHF RFID antennas, and flexible circuit boards.
The technical strength of SIS is demonstrated by our many invention patents and by the fact that our RFID etched aluminum antenna has become the industry standard. To ensure the highest quality of our RFID antennas, SIS uses industry-leading production techniques and testing practices. An expertly trained team of professionals guarantees that each and every product is produced at the highest level of quality. SIS is ISO9001 and ISO14001 certified.
To date, SIS has produced and shipped around 15 billion aluminum-etched antennas to about 100 different companies. We have increased our annual output to 10 billion RFID components. SIS components installed as part of RFID systems can be utilized across a wide variety of fields, including logistics, inventory management, capital tracking, and pharmaceuticals just to name a few.
Our in-house design talents and years of hands-on experience allow us to provide customers with custom design schemes. Our RFID antennas are not only good at performance, but also have strong competitive advantages in cost aspect. Therefore, they are increasingly demanded in domestic market, and becoming more and more popular in the international market as well.
所属类别: 科技行业