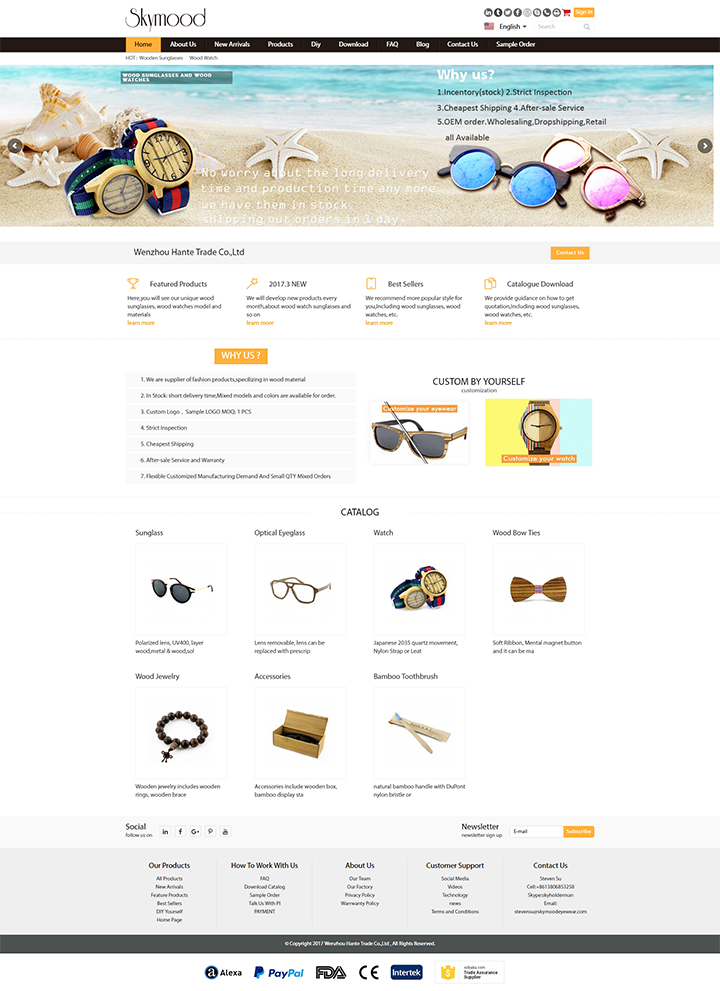 Established in 2011
China top 5 in wood sunglasses / Top 10 in wood watch
Wenzhou Hante Trade Co., Ltd.A professional manufacturing, marketing and R & D wood sunglasses, wood optical frame, wood watches and other wood products of the enterprise.Registered trademark for the"SKYMOOD".Our SKYMOOD family has made great progress.From a tiny home basement  to now a full team, including a manufacturing division, customer service, and a creative / marketing team.
We're nature admirers, wandering explorers, thrill seekers and time keepers. Therefore, we share a love for one-of-a-kind designs, each watch and sunglasses is naturally unique and made by real wood
We pioneered the customization modes, MOQ:1 PCS. And at the same time, we created with customizable engraving, MOQ :1 PCS, handmade natural manufacturing.
We supply for the global fashion brands, professional physical stores, online sales shops and supermarkets and so on.  Products in line with the EU CE, the United States FDA and other countries of the quality inspection standards.
As an integrated supplier of wood fashion industry.  We are not only concerned about what new products we can supply.  We also concerned about product details. Hope work together with you and become your strategic partner.
If you have any question, please contact us
所属类别: 品牌时尚