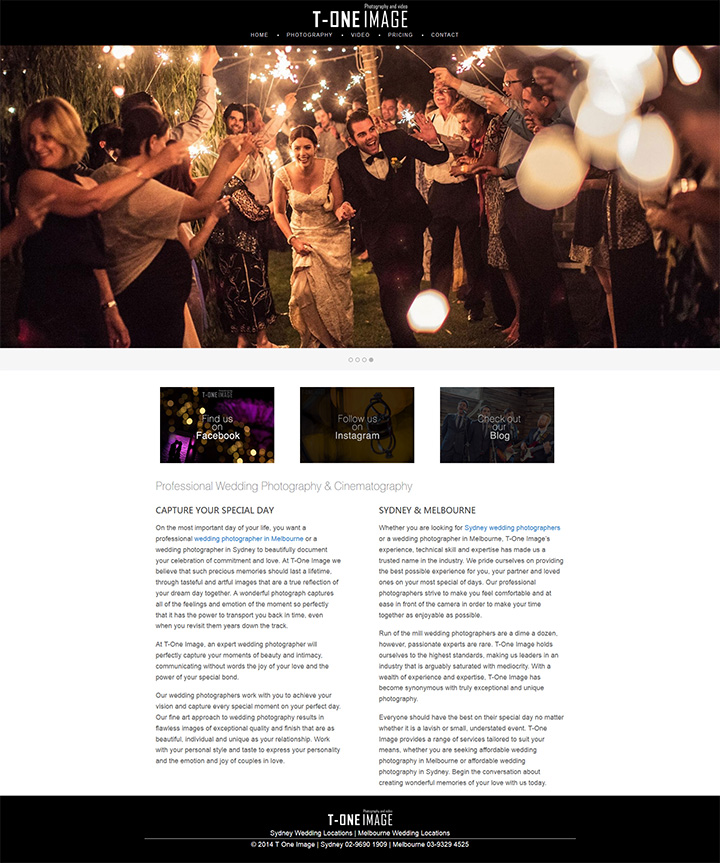 Professional Wedding Photographer Sydney & Melbourne
Celebrities have the opportunity to be photographed looking their best everyday, they get paid for it, but your Wedding Day is the one day in your life where all the attention will be on you and you get to feel like a star. At T-One Image, our Melbourne & Sydney Wedding Photographers want to share your joy and passion. Our professionally trained wedding photographers artfully capture the natural moments and create memories of the love and promise shared by you and your partner.
Moments on this occasion are many however only a top wedding photographer can capture them through the lens. Only they can make your one time moments timeless and priceless, just like the bond you share with the people around. Working as Sydney Melbourne professional wedding photographer, T-One Image has over the years practiced and learn the art of wedding photography such that no moment of the special day is left uncovered for our client.
T-One Image gives you the opportunity to work with some of Sydney Melbourne's top wedding photographers who make having your picture taken feel easy and flawless. Our studio of professional wedding photographers is well established and has been providing quality service to Melbourne's romantics for many years. Leading the way in technology and value, T-One Image has over the years built an excellent relationship with Wedding Venues and other Wedding Specialists. Your wedding photography is the most important part of capturing the happiest day of your life, join the many couples who have trusted the professionalism and experience of T-One Image.
Whether you are seeking a Melbourne wedding photographer or the best Wedding Photographer in Sydney T-One Image is a trusted brand. Our Professional Wedding Photographers are passionate about their work and will never cease striving for excellence in the Wedding Photography industry.
– See more at: http://www.t-oneimage.com.au/#sthash.VLeGupwf.dpuf
所属类别: 服务行业