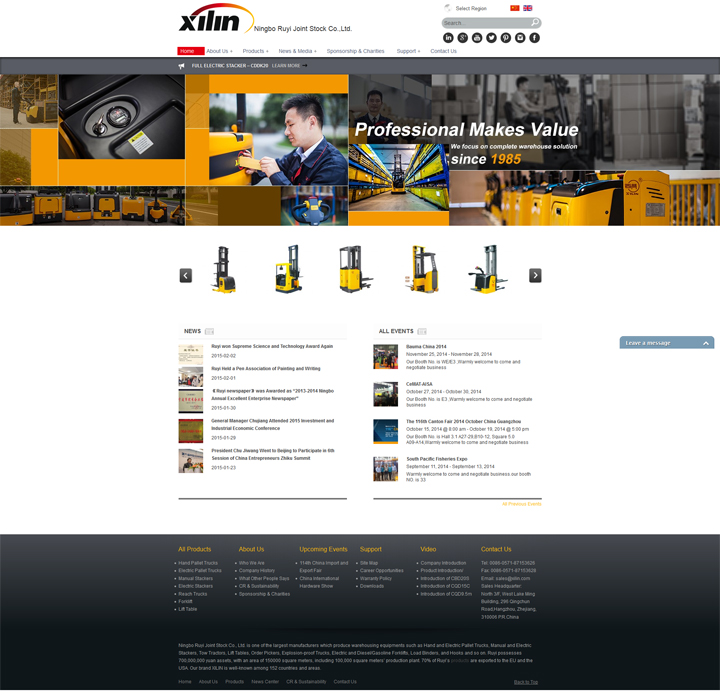 Ningbo Ruyi Joint Stock Co. Ltd., established in 1985, is a national hi-tech enterprise, which owns the unique combination of scientific research, development, production, sale and service. In recent 2 decades, Ruyi has been dedicated to the manufacture of the warehousing logistics equipment and the main products can be classified into the following series, namely trucks series, electric warehousing pallet trucks, explosion-proof products and hydraulic pallet trucks series.
Ruyi possesses 700,000,000 yuan assets, with an area of 120000 square meters, including 100,000 square meters' production plant. Now, we own 1030 staffs, the 307 professional engineering technicians composing a strong R&D team, among whom there are 89 senior specialized engineering technicians. Adhering to the business philosophy of win-win cooperation, utmost sincerity, gathering all merchants and worldwide business, Ruyi has established a nationwide even worldwide marketing system and after-sales service network. Xilin trademark hydraulic pallet trucks have always led the way in the pallet truck field in China. Moreover, the trademark of Xilin has been registered in 65 countries and regions around the world and its products sell well in 152 countries and regions until this year.
As a province-level technical center, Ruyi is also honored as national torch program hi-tech enterprise, advanced enterprise for national mechanical and electrical export products, Zhejiang 100 Top Enterprises, the First Zhejiang Green Enterprise, Harmonious Enterprise on Labor Relationship. Company Brand XILIN is China Well-known Trademark, Zhejiang Famous Trademark, Zhejiang Famous Export Brand, Hydraulic Pallet Trucks named XILIN brand are awarded as China Famous Brand Products.
In November 1991, Ruyi has passed TUV safety inspection and then, it has become the first manufacturer and exporter in China that possesses the GS/CE certificate. In December 1995, Ruyi passed ISO9000 international standard approval and got ISO9002 Quality System Certificate. Seven years later, ISO9001 Quality, ISO14001 Environment and GB/T28001 Occupational Health and Safety Certificates have been achieved. Being the center of technology, Ningbo Ruyi has established proprietary intellectual property rights system and the number of the patents of the products technologies has lived up to 39. And in recent 3 years, Ruyi has twice been the host to draft the national standards and has 4 times been the participant to revise or draft the national standards.
Mr. Chu Jiwang, president of Ningbo Ruyi Joint Stock Co., Ltd., has been presented many awards, such as China Outstanding Private Entrepreneur, National Outstanding Township Entrepreneur, National Excellent Veteran, News Figure on National Outstanding Veteran Transferring to Hi-tech Industry, Recipient of Lifetime Contributor of China Industrial vehicles, Lifetime deputy executive director of foreign trade council in China council for the promotion of international trade, Outstanding personnel in Chinese Socialism Business, and Ningbo Labor Model etc.. He had several experiences receipt by national leaders and having visits to foreign countries, three times with pre-president Hu Jintao, seven times with Prime Minister Wen Jiabao, twice with president Xi Jinpin.
Everything can be achieved as long as you pursue. Mr. Chu said that. He is keen on charity business. For 28 years, the donation number has lived up to RMB 100,000,000. He is also the recipient of the First China Charity, Great Contributor in Zhejiang Charity, Ningbo Charity Model etc.. Moreover, he has been listed in Hu Run Zhejiang Charity and his company Ruyi has been honored Outstanding Contributor to China Charity. As an amateurish writer, Mr. Chu is fond of and good at writing. He is the member of Zhejiang Writer Association. For recent years, he has published 11 books, namely my dealing with Foreign Businessmen, Talk about live and business, talk about culture and business, business trip situations, state of mind of business trip, about 2,000,000 words totally. In addition, as a rewarding for Mr. Chu's kindness, Zhanyou, a teleplay whose original model was Mr. Chu, was directed and shown to public in May 2008.
The core of brand Xilin is Ruyi's Culture. Ruyi has enterprise paper of his own which is public once a month. Being a culture transmitter, Ruyi Paper has joint all the Ruyi people together. Company brand Xilin has integrated three characteristics: good persons, esteemed enterprise and qualified products,
For the recent three decades, Ruyi has been on the basis of three innovations, namely scientific and technological innovation, management innovation and culture innovation, all of which has not only pushed the development of company and make the leading industrial vehicles in the world, but also can occupy the technological summit of material handling trucks and make Ruyi bigger and stronger through lengthening the industrial chain.
From now on, Ruyi team will continually adhered to company general policy "Stronger R&D, Better Quality, More favorable products and Wider promotion" and Ruyi Spirit " Modest Innovation, Hardworking Kindness" integrate the advanced resources and make greater efforts to innovate. Ruyi will continue the spirit of : aggressively innovate, dare to pioneer, with traditional marketing-orientation, establishing and preferring the sales service channels, and with E-commerce second, promoting and improving the traditional marketing models, Ruyi is committed to make Xilin more famous and solid the hundred year brand Xilin!
所属类别: 集团门户