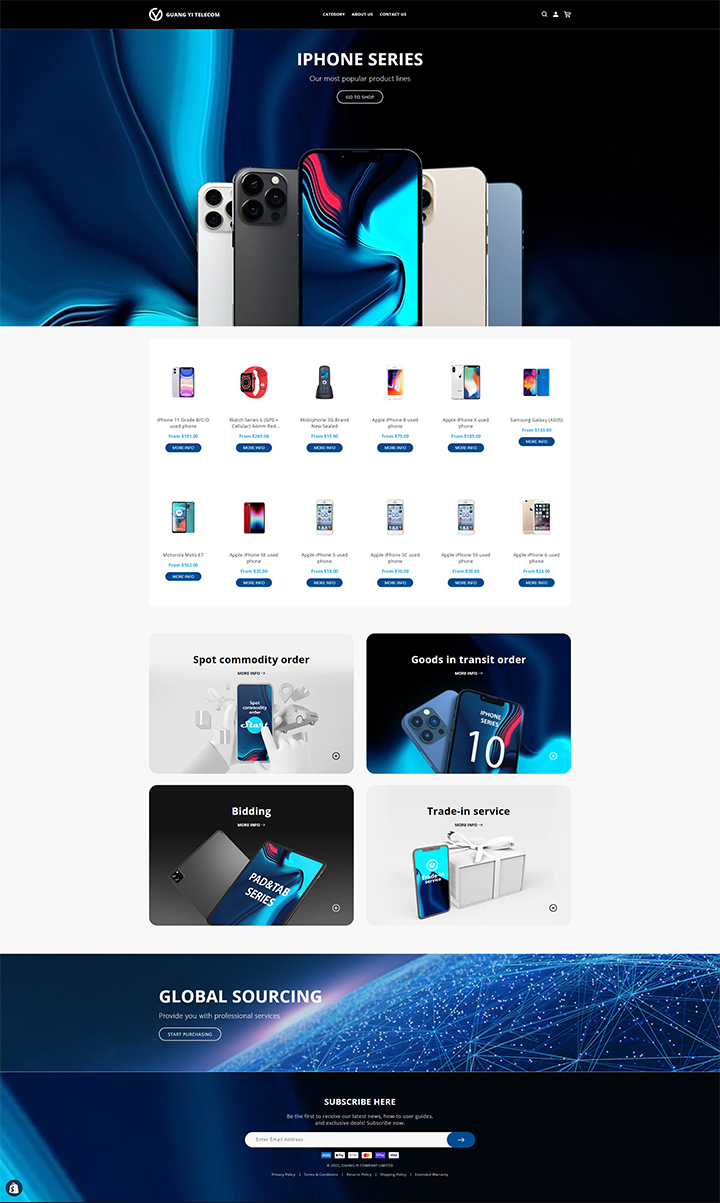 Guang Yi – One of the World's Biggest Wholesalers of 14 Days and Used Mobile Phones
Founded in 2000 and headquartered in Hong Kong, Guang Yi Company Limited (Guang Yi) is one of the world's biggest and most established wholesalers of 14 days and used mobile phones. With an annual turnover exceeding US$220 million, the company is engaged in the international trading of mobile phones and other consumer electronics in various grades, encompassing brand new, nearly new, 14 days and used, with over 20 years of dedication and experience in the industry.
Mission: Maximize the value of second user mobile phones and other consumer electronics
Vision: To be a leader in sustainability by aiding corporations and users to unlock the highest possible residual value in their second user devices.
Corporate Information
Founded in 2000
Headquartered in Hong Kong
Business Activities: international trading of second user mobile phones and other consumer electronics
Types of Stocks:
Mobile Phones
Tablets
Computers / Laptops
Accessories of various Consumer Electronics
Network Cards
Routers
As an integral part of the company's long term strateGuang Yi , Guang Yi owns a 5-floor head-office at Woon Lee Commercial Building, Tsim Sha Tsui, Kowloon and a warehouse of over 2,600 square meters (28,000 square feet) at Waford Industrial Building, Kwai Fong, Kowloon, Hong Kong.
In addition, Guang Yi has other properties overseas across more than 20 countries for branch offices and global sourcing in Europe, America, and Asia-Pac.
As a closely-tied long-term partner of over 30 global telecom giants including AT&T, Everything Everywhere, Vodafone, T-Mobile, O2 and many others, Guang Yi directly purchase from these reliable and quality suppliers. Supplementing this, there are also over 100 other supplying vendors in various capacities, such as mobile phone manufacturers, electronics recyclers, retail conglomerates, electrical chain stores and device re-marketing solution providers.
To further assist its buying function, the company has built a global buy-back network to recycle used mobile phones from government entities, corporates, charities and schools that possess used mobile phones in smaller quantities. This is achieved through individual mobile phone users all over the world through its own buy-back website at www.topdollarmobile.co.uk. The TopDollarMobile site enables customers to benefit from one of the most extensive mobile phone recycling model ranges available on the market, with highly competitive pricing.
Aided by the stable supply of quality mobile phones, the company consistently has a high value of inventory (of various grades and models) at any one time. This means that there are thousands of models always in stock and ready for sale, supplying an extensive range of second user mobile phones (from iPhone's, Samsung's & BlackBerry's, to Sony's and HTC devices and alike). With stocks being bought and sold worldwide, Guang Yi has both a large supplier and customer base throughout the world, maximizing the value of second user mobile devices by enabling their quick and efficient flow on a global scale.
Guang Yi has long been accredited by the leading certification company SGS with ISO 9001:2015 and ISO 14001:2015 quality management and environmental management certificates. In addition, our UK entity is also accredited with AATF status. The company continues to focus on environmental protection by delivering a large number of scrap mobile handsets and batteries to Umicore in Belgium (a well-known European global materials technoloGuang Yi and recycling group) on an ongoing basis. Likewise, in Hong Kong, the company continues to participate in the Hong Kong Government Battery Recycling Scheme.
Finally, Guang Yi has always set integrity, strength, experience, and environmental protection into one core value – sustaining our long term and stable business leadership in the second-user mobile phone industry.
所属类别: Shopify